Welcome to the Bona Fide Records website! We are currently undergoing reconstruction so please be patient till we get everything up and running. Believe me, it could take a while but we are working on it, honest. We hope to finish George Brigman's site soon, as well as rebuilding our pages for Waitin On A Train and The Left.

YORK RECORD RIOT RETURNS MAY 26TH!
Wednesday night May 26th from 6-9 PM, the Record Riot returns to the York Emporium. This fun show went over really well in February and lots of vinyl exchanged hands. This unique, low-key, collector-oriented show takes place in the cozy environs of the York Emporium and is a FREE event, and even some great free coffee and homemade brownies too. For more info check out this blog post on the Record Riot.



The Skeptics In A World of Their Own World Premiere March 25th!
Bona Fide is honored to be a part of the feature documentary film about Frederick, MD's Skeptics who first appeared on Bona Fide's 1985 compilation The Deadly Spawn which featured several bands from the emerging Frederick music scene. We later recorded their LP, Snallygaster, that remains unreleased in the US, though we did get it released on Resonance in Europe. The fun starts at 6PM in the historic Weinberg Center just off the square in downtown Frederick. The band will also cap the evening off with a live performance. This promises to be a big event as we all will get to walk the red carpet and salute tip our hats to Keith Chester who has documented this unusual band with a twisted movie that combines elements of great horror movies with a This Is Spinal Tap documentary style humor! Thanks for a great movie Keith, and thanks to the Skeptics for some great muisc! For more info on the band, the film, and the Snallygaster LP check out my blog!

Here are a couple free MP3s from the Snallygaster LP in honor of the film's premiere!
World Of Your Own

Haunted Host


NEW RECORD SHOW!! Bona Fide is proud to announce that our brand new vinyl show, the York Record Riot, in York PA, Wednesday February 24th from 6-9 at the York Emporium, 343 W. Market St was a huge sucess. Stay tuned for news on our next one in May or June. Thanks to Jim Lewin of the York Emporium, a huge warehouse full of books and other sundry items, for once again trying to start things in downtown York! If all goes well, this could be a bi-monthly event and a great way to spend a Wednesday night!

KEYSTONE RECORD COLLECTORS SHOW MOVING AGAIN:


KEYSTONE RECORD COLLECTORS NEW SHOW LOCATION UPDATE
Starting with the February 14th and March 14th, 2010, shows, the Pennsylvania Music Expo will be located at the Continental Inn, 2285 Lincoln Highway East, Lancaster PA 17602. It's located just east of Dutch Wonderland on US Route 30, 1.2 miles east of the junction of Routes 30 and 462, exactly 3 miles east of the Greenfield Road exit.

The remainder of the 2010 dates will also be on the second Sunday of each month.
Thanks to Site Coordinator Bob "Will" Williams' efforts, negotiations with the Continental Inn were completed Thursday afternoon, February 4th, to hold our shows there for the foreseeable future-in other words, we shouldn't be "on the road again" any time soon.
To avoid missing the entrance, eastbound traffic should enter turning left at the traffic light directly in front of Dutch Wonderland, immediately bear right, and then proceed to the Continental Inn's property. Westbound traffic can turn right at the Inn's entrance in front of their property.
Customers must enter and exit the show through the front lobby entrance. The side and back doors directly into the Ballroom are for vendor unloading/loading and handicap access only.
Show hours continue to be from 9-3 with vendor setup remaining from 7-9. As always, admission is free. Stay tuned for updates or visit their site, recordcollectors.org.



We are the home of real rock! Check out the first ever authorized CDs by George Brigman, Jungle Rot and I Can Hear the Ants Dancin'. Both have unreleased cuts, great sound straight from the masters and vintage photos Full blown over the top proto-punk with tons of George's great guitar! Hear what the world's buzzing about at our CD Baby page if you need some immediate satisfaction!

Having started with those 2 great reissues, we were not about to stop in our quest to scorch your ears with blazing rock and roll. George Brigman has released to rave reviews his first all new release in 20 years Rags In Skull . Now the whole world is listening to such instant classics as "Some of My Best Friends Are Snakes" and "Goin' To Pieces." .

Also, we have reissued the seminal 80s punk recording's by Hagerstown, MD's infamous band, The Left. Jesus Loves the Left is an essential document of their complete recordings and history. However, the band has reformed and is currently gigging once again so there may well be some more recordings coming soon. In the meantime, check out the CD and you can listen to their instant classic "5 AM" right on the bonafiderecords.net homepage.

Bona Fide is also the home of the first full-scale release of York's hillbilly band, Waitin On A Train, In the Path of Pain, a disc that straddles both old-timey music and modern punk with its feverish hellbent honky tonk hardwood floor sound!

Now Billy Synth and the Turnups on You Tube!
We have loaded a bunch of historic 80s videos of our friends the Turnups, on their own, as well as backing Billy Synth! These include the amazing 17 minute live version of "Sister Ray" as well as the Turnups classic tune "The Cart Woman of Harrisburg"! These guys started the first punk rock scene in Harrisburg when noone else gave a shit, and these videos both live and studio shots are simply a fantastic record of bygone daze! Click Here! and see for yourself!
Now DRM-Free Downloads from CD Baby!--Click on the merchandise box to get to our CD Baby page where we have lowered our prices on CDs as well as downloads---Complete CD downloads with art that do not contain DRM so you can transfer easily to any device!

October 2007--George Brigman continues to receive raves for his new Rags in Skull--stunning new listeners and fans alike who are amazed George's guitar playing, singing, and songwriting are stronger than ever, 30 years after Jungle Rot!
Scott Seward, writing in Decibel, calls it "heavy entertainment" and "just sheer joy" and proclaims "This album rocks HARD. God bless him." In an exhaustive and informative interview that used to be online, Joe Kelly calls Rags "a stiff middle finger to an indifferent industry." Check the interview out for some unique insight into the origins of George's muse...
July 2007--As George Brigman's Rags In Skull continues to
turn heads with its wicked rock and roll brew, Bona Fide celebrates the 30th anniversary of George's "Blowin' Smoke" 45 with a special signed edition in an all new sleeve featuring the last remaining copies of the original pressing! For more info check out George's site--specifically the new releases and news pages! We have scheduled a Brigman appearance at Baltimore's great True Vine Record Shop on August 3rd!
We've also been fortunate to catch a few Waitin' On A Train live shows this summer and they continue to serve up a hot platter of their unique take on hillbilly rock, or modern acoustic music, whatever you want to call it. Make sure your check out their schedule as well as their In the Path of Pain CD which is making a big splash! As always, the York County Fiddlers' Convention will be a swell time, especially with Waitin' On A Train playing on the main stage.
April 2007--George Brigman's Rags in Skull has been released to much acclaim as the record is a testament to one man's determination to remain true to his sound while continuing to evolve not only as a musician and vocalist, but a songwriter as well. The heavy vibe that runs throughout
George's work is still there though it may be tinged with a bit more anger and vile. Still, there are beautiful flowing melodies, unusual rhythms, and lively instrumentals that offset the hell-bent wicked rock and roll. Rags In Skull is a work that shows Brigman and his many talents in full bloom. James Toth writng in Your Flesh Mag says "His Fred Cole-like dedication to an aesthetic would be noble enough even if the album didn't rock so mightily, but rock it does. In short, Rags in Skull is everything The Stooges' bogus 'reunion' album should have been but wasn't, and very near the top of a relatively short list of essential 2007 releases thus far. "
Gregory Conner writing in Tufts Daily seemed to agree, "Brigman sounds totally stuck in the '70s on this album, but still manages to let loose, heavyweight hard rock riffs that knock out present day contenders...when you find yourself at the end of Brigman's tour through his torn up and dragged down world, you find yourself only wanting to go back down for more." Click on the mags names to read the full reviews!

It's the Blog To Comm George Brigman interview! Click here!
Find out why it took George 20 years to make Rags In Skull!

OUT NOW !!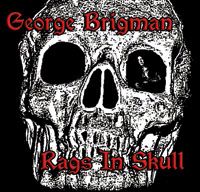 Out Now!
preview it here! From Rags in Skull: So This is Life
See vintage Brigman video from the 80s (and preview his new cd too) on You Tube on our new youtube page hosted by our video archivist, Floyd Tull!
Bona Fide is proud to announce the release of Waitin On A Train's In the Path of Pain. It's a quite unusual but true blend of old time mountain music with the spit and fire of rock and roll! Mainly an acoustic trio of guitar, mandolin and bass, Waitin On A Train chew up and spit out traditional bluegrass harmony their own way, adding some super charged rhythm to their whiskey soaked tales of honky tonkin, assassins, bootleggers, and lost love. In his All Music Guide 4 star review, Richie Unterberger states, "make no mistake, these guys can play with infectious grit, and know the source material to which they're giving a slight twist." See their page for their gig schedule and more info!
Out Now!
preview it here! From In the Path of Pain: Boot Hill Bootleggers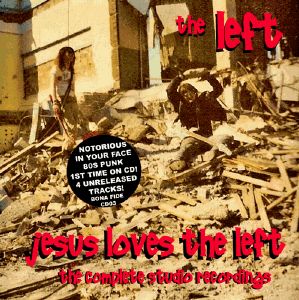 *******************************************
*******************************************
OUT NOW! FIRST TIME ON CD! THE COMPLETE STUDIO RECORDINGS OF THE LEFT! 20 Songs!
Check out the Left's My Space for a very exclusive net only download of the Left covering the Dirty Wurds garage classic "Why". The CD is full of bristling in your face punk rock of the highest order! Everyone needs this one so sign up for our mailing list today so you don't miss out! Available from fine stores, or online thru CD Baby! This is finally the culmination of lots of hard work
and features gloriously loud, hell raising punk complete with a 12 page book with the whole story, lots of photos, and 4 unreleased tracks. An essential document of an amazing band who blazed a unique path thru the punk world back in the mid-80s. It includes their very first recording as well--the incredibly insulting "You're So"! Bona Fide Records is also on my space! Check our page out
where we have posted a special preview of 80s punks the Left. This CD is available online or at cool stores worlwide, but now you can get free Left downloads right here! You can download the previously unreleased track "Columbus Day" -- Yet another rabble rousing tune fromtruly rabble rousing bunch! We also have their epic song "Hell" and their smoking remake of "TV Eye". Hope you dig the CD preview. The whole CD has 20 songs, lots of photos, and as much of the story that anyone can remember!

Welcome to the launch of the Bona Fide Records website! Check out the new Bona Fide Records Blog for all the latest info and dirt!
We are proud to present a reissue of seminal work we released on vinyl in the 80s. Now the complete studio sessions of the notorious punk band the Left is on CD with 20 tracks, 4 unreleased cuts too! The Left shreds like never before, better hide those kids! The Left CD features great remastered sound that never quite made it to the vinyl!
The Left finally reissued on
Bona Fide Records!